Capture the children's attention with the story of 'Jack and the Beanstalk' and they will delight in taking part in these related activities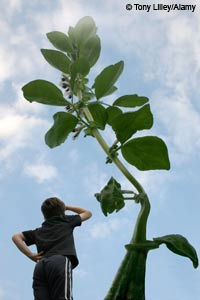 Jack and the Beanstalk
Tell the children the traditional story of 'Jack and the Beanstalk'. Provide a large storysack full of props related to the story. Retell the story and allocate props to individual children. Encourage them to use the props at the relevant moments to help you tell the story.
Leave the storysack in your story corner, alongside other versions of the story and some story tapes. Provide finger puppets linked to the story in the story corner, or make your own from the 'Finger puppets' activity sheet.
Let the children play freely with the resources and encourage them to act out their favourite parts of the story.
Suggested resources
Jack and the Beanstalk (Favourite Tales series, Ladybird Books); large storysack (brightly-coloured cloth bag); props related to the story such as a handful of beans, pair of giant's boots, beanstalk leaves, cow hand-puppet, golden coins and so on; story tapes of the tale; other versions of the story; finger puppets.
Make it grow
Do a good deed and win a leaf for the beanstalk
Log in to your account to read
Reviews
You need to be signed in to place a review.