Learn about number sorting and codes with the Maths Superstar, Lewis Carroll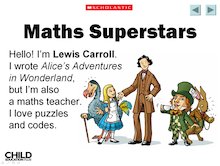 Download the Slideshow presented by the Maths Superstar, Blaise Pascal. The slideshow features puzzles related to number sorting and codes.
These teacher notes are also available as a PDF to download and print for handy reference.
Introducing Lewis Carroll
Lewis Carroll's real name was Charles Lutwidge Dodgson. He is best known as the author of the children's stories Alice's Adventures in Wonderland and Through the Looking Glass. He spent much of his adult life as an Oxford University academic writing many books about mathematics and logic.
Lewis Carroll became a student at Christ Church, Oxford after leaving school in 1851. He was later appointed a mathematics lecturer at the college.
His interest in mathematical logic, games and puzzles started when, as a young child, he invented activities to amuse his older brothers and sisters. Later, he studied codes and invented word games known as 'word ladders'. His puzzles were published in magazines like Vanity Fair, named 'Pillow Puzzles' because Carroll used them to pass the time when he couldn't sleep.
Log in to your account to read