Running a healthy tuck shop can be a fantastic way to raise money, while also giving children experience of how a business works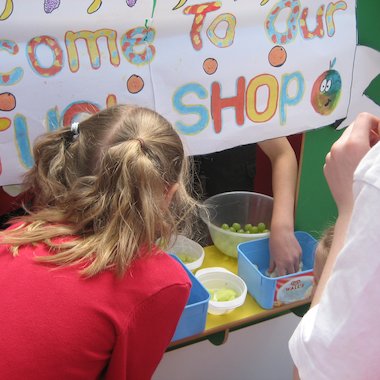 Healthy tuck shop
My first endeavours into running such a tuck shop took place years ago when I was looking for a way to teach money to my mixed Year 3/4 class. In particular, many of the children struggled with the concept of giving change, so the idea of organising some kind of stall seemed logical.
Children were already encouraged to bring fruit to eat at playtime(this was in the days before the government provided fruit for KS1 children) so we decided to offer the whole school the chance to buy their fruit at school instead, for reasonable prices. By the end of the week, the benefits had become clear. My prime objective of developing the class's confidence and competence with handling money had been achieved, but the project had also proved extremely popular with the rest of the school, with many younger pupils trying some fruits for the first time. The popularity of the project resulted in us making a small profit, which we subsequently donated to charity.
Fast forward a few years. As a Year 6 teacher, I wanted to inject a bit of fun, interest and relevance into an ICT unit on spreadsheets. Knowing that food and money can often prove great motivators in Year 6, I realised that the 'healthy tuck shop' might just come into its own again.
The first thing I did was to explain the concept to my Year 6 class: they were going to organise a healthy tuck shop each playtime for one week, where the rest of the school could purchase fruit. I then divided the children into teams to carry out preliminary work.
Log in to your account to read