Literacy Time PLUS for ages 7 to 9 January 2008 features an extract from Touching the Void by Joe Simpson. The book recounts a harrowing climbing accident that tested the friendship and survival skills of Joe and his climbing partner Simon Yates. The print version of the leaflet has information text on the Andes mountain range where Joe's ordeal took place.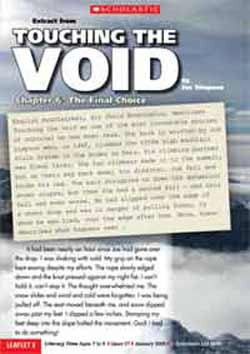 Key learning outcomes:
To use drama and role play to explore issues/viewpoints;
To empathise and debate moral dilemmas;
To explore why writers write;
To find information effectively;
To explain how writers use figurative and expressive language to create images and atmosphere;
To clarify meaning using phrases, clauses, adverbials and exclamation marks.
Log in to your account to read
Reviews