Explore some of the exciting aspects of night-time and the dark
Dark area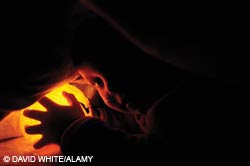 In a corner of your room, create an area where the children can experience the dark, for example, under a large table draped with blankets, or inside a playhouse with the windows blacked out. Hide a selection of objects with interesting textures, smells and sounds in the dark area. Add luminous objects for fun, for example, plastic skeletons and spiders. Encourage the children to discover the hidden objects. Change the objects each day so that there is something new for the children to discover.
Let the children take a torch when they first enter the dark area. When they feel more at ease, suggest that they go in without it. Encourage the children to spend time in the cave exploring the dark for themselves, but be on hand to supervise them inside, if necessary. Encourage the children to talk about what it felt like in the dark area. Was it fun?
Suggested resources
Blankets; curtains; black paper; objects with different textures such as furry and plastic toys, metal spoon, wooden spoon, woollen hat or glove, cloth slipper; objects with distinctive smells such as bar of soap, pomander; objects with distinctive sounds such as tambourine, bell, maracas; safe, edible objects with distinctive textures, shapes and smells such as orange, apple, banana; extra adult help to supervise the children in the dark area.
1 Nocturnal animals
Make and decorate a nocturnal animal mask
Creative Development
Exploring Media and Materials
Development matters: begin to be interested in and describe the texture of things (30-50 months); create constructions, collages, paintings and drawings (40-60+ months).
Early learning goal: explore colour, texture, shape, form and space in two or three dimensions.
What you need
Group size: small groups. Photographs of nocturnal animals; 'Animal mask' activity sheet; child scissors; recyclable materials to make animal features such as faux fur, felt, feathers and so on; felt-tipped pens; lolly sticks or elastic.
What to do
Log in to your account to read