Each month we will be featuring an extract from a recently published book and providing talking points to accompany it. This month's book group read is the first three chapters of My Dad's a Birdman by David Almond, illustrated by Polly Dunbar (Walker Books, £8.99 HB, ISBN 9781406304862)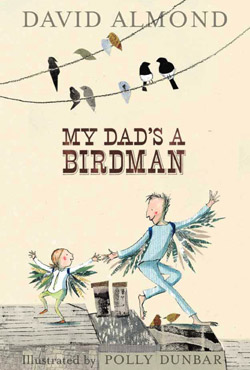 Chapter 1
An ordinary spring morning in 12 Lark Lane. The birds were tweeting and whistling outside. The city traffic rumbled and roared. Lizzie's alarm went ringadingding. She jumped out of bed, washed her face, scrubbed behind her ears, brushed her teeth, brushed her hair, put on her uniform, went downstairs, filled the kettle, switched it on, put bread in the toaster, set the table with two plates, two mugs, two knives, milk and butter and jam, then she went to the foot of the stairs.
"Dad!" she shouted. "Daddy!"
No answer.
"Dad! Time to get up!"
No answer.
"If you don't get up now, I'll come up there and…"
She stepped heavily onto the first step, then onto the second step.
"I'm on me way!" she shouted.
She heard a grunt and a groan, then nothing.
"I'll count to five. One … two… two and a half… Daddy!"
There was a muffled shout from upstairs.
"Oriyt, Lizzie! Oriyt!"

There was a crash and another groan, then there he was, in a scruffy dressing-gown and holey slippers and his hair all wild and his face all hairy.
"Downstairs now," said Lizzie.
He stumbled down.
"And don't look at me like that."
"No, Lizzie."
She tugged the dressing-gown straight on his shoulders.
"Look at the state of you," she said. "What on earth have you been doing up there?"
He grinned.
"Been dreaming," he said.
"Dreaming! What a man. Now sit at the table. Sit up straight."
"Yes, Lizzie."
He sat down on the edge of a chair. His eyes were shining and excited. Lizzie poured him a mug of tea.
"Drink this," she said, and he took a little sip. "And eat that toast." He nibbled at a corner of the toast. "Eat it properly, Dad." He took a bigger bite. "And chew it," she said. He chewed for a moment. "And swallow it, Dad." He grinned. "Yes, Lizzie." He took a big bite, chewed, swallowed, and he opened his mouth wide for her to look inside.
"All gone," he said. "See?"
She clicked her tongue and turned her eyes away. "Don't be silly, Dad," she said. Then she smoothed his hair down and brushed it. She straightened the collar of his pyjama jacket. She felt the thick stubble on his chin.
"You've got to look after yourself," she said. "You can't go on the way you are. Can you?" He shook his head.
"No, Lizzie," he answered. "Certainly not, Lizzie."
Log in to your account to read