As a student teacher or NQT, you're not expected to be an expert on special needs, but being familiar with some of the basic facts can be a bonus…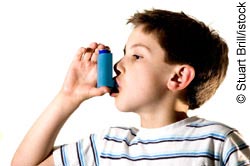 Asthma
What you need to know
Asthma causes children to cough, wheeze, have a tight chest and get short of breath. This is because their airways are almost always inflamed and sensitive. These airways react badly when the child has a cold or comes into contact with an asthma 'trigger'.
Common asthma triggers include viral infections, pollen, cigarette smoke, house-dust mites, furry or feathery pets, exercise, air pollution and stress.
Children whose asthma has been diagnosed by a doctor will need to take a dose of their prescribed reliever medication when they have symptoms. This is usually given by inhaler. Some children need to use a preventer inhaler each day as well.
Asthma symptoms can be very mild for some children, and extremely severe for others.
Each school should have guidance on the use of medication in school, who can administer it and what consents are needed from parents and carers and doctors.
Log in to your account to read