At the Supermarket
5 Stars
Add to My Folder
This item has 5 stars
of a maximum 5
Rated 5/5 from 2 ratings (Write a review)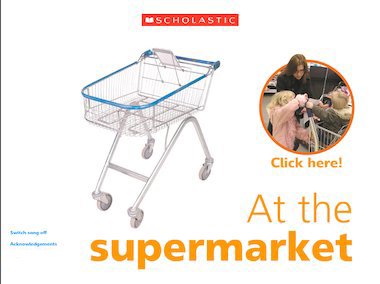 Every shopping trip begins with a shopping list. Together with the children, make a list of all the things you want to buy from the supermarket. Scribe the list on the whiteboard, demonstrating use of commas and fullstops.
Once you have made a whole-class shopping list, get the class to think about which sections of the supermarket they will have to visit. Stick cards around the classroom with the names of the food sections on them (meat, dairy, cereal, bakery, fish, fruit and veg, and so on). Give each child an item from the list and ask them to go to the section where they think they might find it.
Ask the children to imagine they are a character from a story or fairytale. What might their character buy from a supermarket? What wouldn't they buy and why? Ask the children to think about the people who help us at the supermarket. Get the children to prepare and act out situations where each of these job roles is shown in action.
You may need Flash
To use this resource you need Adobe Flash installed on your computer. To get the latest player:
You may need to be an Administrator to install this.
Reviews
You need to be signed in to place a review.