New this week
Measurement is one of the most easily recognisable 'real life' aspects of mathematics and applying it to real life settings should be a key focus when teaching it.

Just for Primary subscribers

The National Theatre's On Demand in Schools service offers world class curriculum-linked productions – free of charge!

Free
Don't miss
World Book Day

Get ready for World Book Day on Thursday 1 March by checking out our fantastic range of resources and activity ideas.
100th anniversary of women's right to vote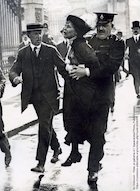 Mark the 100th anniversary of women's right to vote and learn about the suffragette movement.
Tell us what you think
What do you want more of from the Resource Bank?
We want to know what you need most so we can help to support you in the best way possible and make sure you are getting the most out of your subscription. Please select what you would like to see more of on the Resource Bank from the below options. If what you want is not listed, please comment and let us know!
This month
February 2018

Monday

19

Tuesday

20

Wednesday

21

Thursday

22

Friday

23

Saturday

24

Sunday

25

Thomas Edison patents the phonograph

Thomas Edison patented the phonograph on this day in 1878. It was the first device for recording and playing back sounds.

Edward VI is Crowned King of England

On this day, in 1547, Edward VI was crowned the King of England at the age of nine in Westminster Abbey.

First self-propelling steam locomotive ran (1804)

The first self-propelling steam locomotive had its premier outing at the Pen-y-Darren ironworks in Wales.

Thinking Day

Today is Thinking Day for Girl Guides and Girl Scouts. It is celebrated on this day as it is the birthday of Robert Baden-Powell, founder of the scouting movement. The theme this year is "empowerment".

Samuel Pepys born (1633)

Samuel Pepys, famous for his diaries, and an eye-witness to the Great Fire of London, was born on this day in 1633.

Dragobete

This traditional Romanian celebration is considered the first day of Spring and is known as 'the day when the birds are betrothed', as the birds begin to build nests and find partners.

Sir Christopher Wren

Sir Christopher Wren British architect, astronomer, and geometrician died this day in 1632.

February 2018 / March 2018

Monday

26

Tuesday

27

Wednesday

28

Thursday

01

Friday

02

Saturday

03

Sunday

04

'Buffalo Bill' born (1846)

On this date in 1846 William F. 'Buffalo Bill' Cody, American cowboy, frontier explorer and showman was born.

Equirria (Roman Festival)

Horse races would be held on Equirria, part of the Roman Festival of Mars.

Kalevala Day (Finland)

Named so after the epic poem compiled from Finnish folklore by Elias Lönnrot, Kalevala Day is a celebration of Finnish Culture.

St David's Day

The Patron Saint of Wales' symbols include daffodils and leeks.

Find out more

Omizu-Okuri Festival (Japan)

Water is drawn from the Onyu river in Obama, Japan, and presented to the temple. This annual event dates back more than 1200 years.

The Barbican

On this day in 1982, Queen Elizabeth opened the Barbican Centre in London. Visit the Barbican education website.

March 2018

Monday

05

Tuesday

06

Wednesday

07

Thursday

08

Friday

09

Saturday

10

Sunday

11

Birth of Michelangelo

On this date in 1475, the painter, sculptor, architect, poet, and engineer Michelangelo di Lodovico Buonarroti Simoni was born in Italy. His most famous works include the statue of David and the ceiling frescos in the Sistine Chapel.

Alexander Graham Bell

On this day in 1876, Alexander Graham Bell was granted a patent for his invention — the telephone. See a biography of Alexander Graham Bell.

Kenneth Grahame

Author of The Wind in the Willows, Kenneth Grahame, was born on this day in 1859. He died in 1932.

First telephone call

On this day in 1876, Alexander Graham Bell made the first telephone call. You could challenge the children to role play the phone call between Alexander and his assistant.

March 2018

Monday

12

Tuesday

13

Wednesday

14

Thursday

15

Friday

16

Saturday

17

Sunday

18

Severe storm

On this day in 1888, the most severe winter storm ever to hit the New York City region became a blizzard. Check out our wild weather resources.

Uranus discovered

The discovery of the seventh planet from the sun was first announced by William Herschel in 1781.

First Test cricket match - England and Australia

On this day in 1877, the first Test cricket match between England and Australia began.

First rocket

The world's first liquid-fuelled rocket was launched on this day in 1926 in Massachusetts. Check out our space-themed resources and activities.

St Patrick's Day

A day to celebrate the patron saint of Ireland, whose symbol is a shamrock. Take a look at our St Patrick Day resources

British Sign Language recognised

On this day in 2003 British Sign Language was recognised as an official British language. Take a look at our sign language resources online.