New this week
This new article by Fe Luton focuses on the philosophy behind continuous provision and the possible advantages of continuing this approach to learning right up to Year 6.

Just for Early Years members

Find out how to practise mindfulness in your setting on a daily basis.

Just for Primary members
Don't miss
SATs revision tests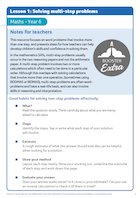 Have you seen our brilliant range of SATs revision tests?
Have you seen our new famous people section?

Check out the Resource Bank's brand new famous people section in the 'Topics' navigational menu. All the great names are there, from Florence Nightingale to Neil Armstrong to Julia Donaldson, plus plenty more!
This month
April 2018

Monday

23

Tuesday

24

Wednesday

25

Thursday

26

Friday

27

Saturday

28

Sunday

29

St George's Day

The feast day of St George, patron saint of England, who according to history, fought and killled a dragon. Find St George's Day

DNA Structure Determined (1953)

James Watson and Francis Crick publish their paper revealing the double helix structure of DNA on this day in 1953.

Tanzania formed

On this day in 1964 Tanganyika and Zanzibar merged to form Tanzania.

Samuel F B Morse

The inventor of Morse Code was born on this day in 1791. Challenge older children to crack this wartime code.

Roman festival 'Floralia'

The Floralia was a Roman festival dedicated to the goddess Flora which took place from April 27 to May 3. It was celebrated with dancing, drinking, and flowers.

International Dance Day

Appreciate the art of dance, and get the children moving to the music today. On-line resources

April 2018 / May 2018

Monday

30

Tuesday

01

Wednesday

02

Thursday

03

Friday

04

Saturday

05

Sunday

06

George Washington becomes first US president (1789)

On this day in 1789 George Washington was sworn in as the first elected President of the United States.

May Day

Celebrated to mark the start of summer with dancing around a maypole and the choosing of a May Queen. On-line resources

David Beckham's Birthday

Famous football player born on this day in 1975. On-line resources

Greenpeace launched (1971)

Founded in Canada in 1971 as the 'Don't Make A Wave' committee, the environmental group officially changed its name to 'Greenpeace Foundation'. Find resources on an environment theme here

Four-minute mile broken

On this day in 1954, Roger Bannister ran a mile in 3 minutes 59.4 seconds. What strengths do the children think Roger had to draw on to succeed (determination, self belief)?

May 2018

Monday

07

Tuesday

08

Wednesday

09

Thursday

10

Friday

11

Saturday

12

Sunday

13

Local History Month

Starting on 1st May, make the most of your local area's history this month. Visit The Historical Association website for more information.

VE Day (1945)

Victory in Europe (VE) Day marked the end of the Second World War. We have resources about both World Wars.

Europe Day

Celebrate the formation of the EU in 1949 with a European cities topic. Each child could research a different capital city — add in food, flags and different languages for extra fun!

Nelson Mandela Became Prime Minister

On this day in 1994, Nelson Mandela became South Africa's first black Prime Minister. Take a look at our activities and resources linked to South Africa.

Edward Lear's Birthday

Author and illustrator famous for his literary 'nonsense' and limericks born on this day in 1812. On-line resources

Alison Hargreaves conquers Everest

On this day in 1995, Alison Hargreaves became the first woman to reach Everest's peak unaided. Download a poster of Alison Hargreaves.

May 2018

Monday

14

Tuesday

15

Wednesday

16

Thursday

17

Friday

18

Saturday

19

Sunday

20

National Smile Month

Running until 14th June, this month aims to increase awareness of dental health. Visit www.nationalsmileweek. org/

First Academy Awards ceremony

On this date in 1929 the first Academy Awards, or 'Oscars', were handed out in Hollywood, California.

The Sun

The Sun newspaper was published for the first time on this day in 1964. Talk to the children about issues involved in newspaper journalism, such as bias. Should they believe everything they read?