The ChildEd PLUS team took a backseat for a month and handed control to one of our readers. How did she find the experience?
So, how does a perfectly ordinary Year 1 teacher and literacy coordinator get to be splashed all over the pages of a classy magazine and get a fabulous trip to its head office thrown in? Well, it's quite simple as it happens. It all started back in the winter of 2007/8 when I spotted an article in ChildEd PLUS asking for applications to be guest editor for the December issue. This seemed like a very long way off, far enough away to be almost unreal and not at all scary… or so I thought.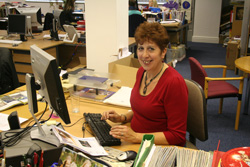 After doing my best to make myself sound interesting in an email to Mike, the editor, I forgot all about the whole idea. I was then stunned to get a phone call in early June saying that I had been chosen. Help! What could I do to make my issue of the magazine stand out? I hadn't been teaching in Key Stage 1 for that long and was previously both a Year 4 and Year 6 teacher. ChildEd PLUS has been extremely useful to me in the transition period, when I was wondering why I had exchanged large, sensible children for little, rolling-around ones.
Log in to your account to read
Reviews
You need to be signed in to place a review.