and Jasen Booton — Year 2 teacher
The time when parents helped their children with spelling tests is over. It's all about embracing blending and segmenting now
Judy Noy
Many parents are keen to help their children learn their spellings. However, with the current synthetic approach to phonics teaching, spelling tests are disappearing, except for high frequency words with 'tricky bits'.
Early in Reception most children are introduced to letter groups, usually using programmes such as Jolly Phonics, which supports Letters and Sounds (see pages 18-20 for a comprehensive breakdown). Parents therefore receive graphemes from school, rather than words to learn, and are encouraged to help their children to blend and segment using these letters.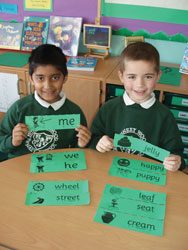 Parents are often unfamilar with the different methods to teach reading
Log in to your account to read
Reviews
You need to be signed in to place a review.