Discover how your local environment can offer great learning experiences…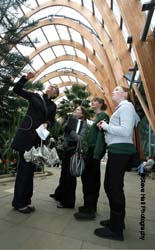 What makes up a street? Why does it look the way it does? How has it evolved? Can it be changed for the better? Our street: learning to see is a free resource published by CABE that aims to introduce Key Stage 2 children to the built environment around them.
Taking a single street, any street, as its subject, the resource is intended to promote visual awareness and understanding of the built environment using a familiar street setting. Using their personal experiences as a starting point, children can develop their knowledge of the design and impact of local buildings and the spaces in between them. They can then make up their own minds about the quality of their surroundings and think about how they might be improved.
This article gives you a snapshot of the activities taken from Our street: learning to see's scheme of work, 'Analysing the street' (see 'More about the resource', below) and provides some additional ideas to try out with your class.
Cross-curricular links: English, science, art and design, geography, D&T and maths.
QCA links: Geography Unit 6 – Investigating our local area.
Log in to your account to read
Reviews
You need to be signed in to place a review.