Eoin Colfer, author of the Artemis Fowl series, reveals his favourite children's book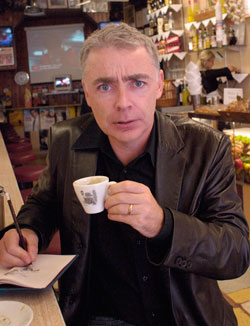 My favourite picture book is not actually from my own childhood, but from the ongoing and tempestuous childhood of my son, Seán. As a parent reading a picture book you enjoy the book itself, but you have the extra dimension of enjoying your child's reaction to it. Anyway, the book Seán and I like best is Lauren Child's Charlie and Lola book Whoops! But it Wasn't Me (Puffin, £7.99 PB, ISBN 0141382414).
There are a lot of things to like about Charlie and Lola. The distinctive bright pictures. The spot-on ten-year-old narrator's voice. The imaginative flights of fancy and the visual gags. And we love all of these things. But what we love the most is how Charlie and Lola's relationship echoes Seán's relationship with his big brother, Finn. Lola often gets into hot water for messing with Charlie's stuff, and Seán is very familiar with that hot water. He giggles as Lola crosses the property line. He gasps when she inevitably breaks Charlie's rocket, and he smiles contentedly as she is forgiven. Reading this book with Seán sets off spurts of emotion that get him just tired enough for sleep. Thank goodness.
Log in to your account to read
Reviews
You need to be signed in to place a review.