Authors and Letters, an on-screen resource published in the March issue of Literacy Time PLUS, focused on the work of author and poet Moira Andrew. Children in Class 3H at Southam Primary School in Warwickshire were so inspired by Moira's work that they created their own poems in the same style – Helen Watts, Editor of Literacy Time PLUS, tells us more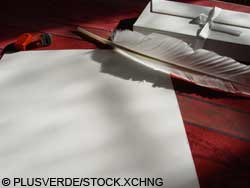 I was over the moon when top author and poet, Moira Andrew, agreed to help me compile a special on-screen resource to help teachers working on the Literacy Framework Narrative Unit for Year 3, Authors and Letters. Published online last month, the resource comprised a selection of Moira's poems and traditional stories accompanied by her notes on the inspiration for her writing, the writing process, and examples of letters and emails she has shared with some of her readers. Click here to take a look.
I also invited teachers and children to correspond with Moira through the Teacher Talk section of the Literacy Time PLUS website or via Moira's own website.
Dear Children of Class 3H
(Southam, Primary School)
Let me introduce myself to you all. I am the Editor of a magazine for teachers called Literacy Time PLUS. One of the resources in the March 2008 issue of our magazine was Authors and Letters, which I believe you and your teacher, Mrs Hindley, used recently for your author study on Moira Andrew.
Moira contacted me this week to tell me that she had received some lovely emails from you along with some poems which you had written in the same style as hers. She told me to have a look at your school's website – which I did. I was so impressed by the work you have been doing, and really excited to see the lovely poems which you have written, that I wanted to write to you myself.
I not only want to say 'well done' on creating such moving and well-thought-out poems, but I also want to ask you if you would give me permission to publish two of the poems on the Literacy Time PLUS website. The two poems I would like to publish are:
Log in to your account to read
Reviews
You need to be signed in to place a review.