ICT is all around us, so we need to encourage young children and babies to embrace technology and become empowered by it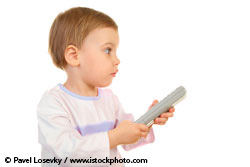 What is
ICT

?

ICT is 'Information Communication Technology' and put simply, means all the technology that we use in our lives, such as mobile phones; digital cameras; DVD players; sound recorders; and computers. In the context of the Early Years Foundation Stage (EYFS), it includes technologies such as programmable toys and interactive whiteboards.

For young children, it also includes learning about everyday devices that we might not think of as being technology, but all of which contain a microchip that is used to control them. This includes washing machines; toasters; street lights and traffic lights.

Children live in a highly-technological world and we need to help them embrace this technology and be empowered by it. We can help them to explore and understand these technologies and use them appropriately to enhance their learning and development. It is important that we know not only what technologies the children have in their homes, but which ones they use, so that we can build on that child's interests and what they already know and can do.
Log in to your account to read
Reviews
You need to be signed in to place a review.