More schools are using the International Primary Curriculum to maximise outdoor learning. Not adopted the IPC? You're missing out
Taking learning outdoors shouldn't just be a case of half an hour of rounders or storytime in the sunshine. The outdoor classroom is a world full of opportunities for learning, creating and exploring. And building it into your lesson plans is not as difficult as it may first appear. Indeed, teachers at Camps Hill Community Primary School in Stevenage are using units from the International Primary Curriculum (IPC) to maximise their opportunities for outdoor learning.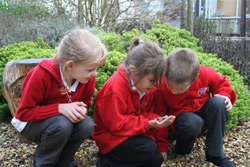 The units the school has selected are Plants and Flowers (Early Years) and Flowers and Insects (Years 1 and 2), just two of the 80 different IPC thematic units of work. Each IPC unit is cross-curricular, and the learning goals are cross-referenced to meet National Curriculum guidelines.
Log in to your account to read
Reviews
You need to be signed in to place a review.