Soldier Joe keeps being a remainder of one when his squadron lines up for parade. Can the children help him out?
A Remainder of One by Elinor J Pinczes, illustrated by Bonnie Mackain (Houghton Mifflin, ISBN 0395694558) is a fabulous book. Perfectly pitched for Key Stage 1 children, the mathematical content is intrinsic to the story and not simply an add-on. The main focus of the activities is on problem solving using multiplication and division, and division with remainders, but there are some useful data-handling activities too.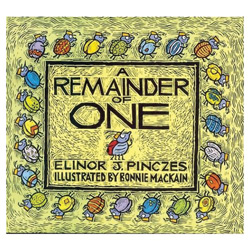 Synopsis
The queen bug likes things tidy when her bug troops parade before her. But poor soldier Joe keeps messing things up by being a remainder of one. He tries various solutions to keep the squadron of 25 in equal lines and is a very happy bug when he solves the problem.
Read and enjoy the story with the children the day before you intend to use it for a mathematical focus. Have fun with the narrative, getting the children to join in on the obvious chorus and marching on the spot to:

'Hup, two, three, four!
Log in to your account to read
Reviews
You need to be signed in to place a review.