Rose Joyce takes a detailed look at Forest Schools, where children benefit from being outdoors, gain an appreciation of the natural world and learn essential skills.
Introduction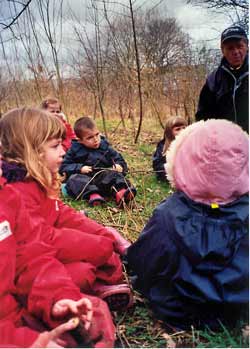 Forest School is a Scandinavian approach to outdoor learning. Woods and similar environments are used as an outdoor classroom, where children benefit from being outdoors, gain an appreciation of the natural world and learn essential skills.
Forest Schools are based on a Scandinavian idea, which was introduced to the UK in the 1990s. Leaders use local woods to explore the environment with young children. In doing so, the children exercise their bodies in a healthy environment, develop their social, emotional and intellectual skills while fostering a love of the natural world. The approach is child-centred and the adult role is that of a facilitator.
Children generally attend Forest School for one half day per week over a period of six to ten weeks, longer if possible. Fully trained Forest School leaders liaise closely with schools and the curriculum, and encourage parent/carer participation. Sessions can be tailored to suit all age groups and abilities.
While exploring the Forest School concept in this article, I have tried to make comparisons and links with the current notion of outdoor learning, generally described in terms of policy and risk. I have come to the conclusion that a number of the Forest School skills are transferable to outdoor learning in any setting, whether that is a playgroup with a tiny outside yard, a nursery in a mainstream school with huge playing fields or a childminder with a small cultivated garden. However, the differences between the two are significant. Although the Forest School approach works with the curriculum and policy culture it is not led by it. It is led by the child, who is encouraged to develop their skills in small achievable chunks of learning supported by an adult who values their efforts, whether that is balancing on a log or climbing a tree. These adults are trained to facilitate learning in the outdoor environment. The recommended high ratio of adults to children is of great importance here too. The other significant difference is the location of Forest School. Because it is away from the normal setting, it becomes a special place with its own rules and codes of conduct, its own special familiar environment. This is central to its success as an approach to learning.
The concepts of Forest School and outdoor learning have been with us for a long time but have come into prominence over the past decade. This article explores the rationale behind this. Why is it important now? What else is going on? Who is promoting these ideas and why? These questions are important in helping us to understand our current position on Forest School and outdoor learning – to step back and take a view of where these ideas have come from and consider what events and people may have shaped those views. It also helps us to look at our own views and consider what shaped them. Reflecting in this way can help us to look at these ideas in a new light and consider more fully how they will impact on young children.
What is Forest School?
Forest School is a Scandinavian approach to outdoor learning. It was brought to the UK by a group of teachers and nursery nurses from Bridgewater College in Somerset who had visited Denmark. As a result of their experience, they set up a Forest School for their own college children. They later extended this to include children with special needs, and eventually students of all ages were given the opportunity to have this experience. They went on to develop training courses through the Open College Network (OCN) and BTec for Forest School leaders and practitioners. Sara Bond, in her 2007 conference paper at Anglia Ruskin University, explains that the movement spread initially in the West country, then to Wales and Oxfordshire. She goes on to inform us that the Greenlight Trust, an environmental charity based in Suffolk, was funded by the Forestry Community Education Section to lead the development of Forest Schools in the East of England. There are now Forest Schools throughout England, Wales, Scotland and Northern Ireland. You can refer to the following websites for further details of each country's Forest Schools:
The Forest School philosophy is based on a desire to provide young children with an education that inspires appreciation of the natural world and in doing so encourages responsibility for nature conservation in later life. This approach refers not only to outdoor activities, such as making a fire, but also to environmental factors such as the setting in which the activities take place, training for leaders and how the sessions are coordinated. Much of the evidence to date regarding the efficacy of this approach is anecdotal, although there is a growing awareness of the need for further indepth research. The New Economics Foundation (2003) has completed a thorough evaluation of a project in Wales, while Rickinson et al (2004) include Forest Schools in their Review of Outdoor Learning. Falch-Lovesey and Ambrose in Norfolk are documenting pilot projects to this end.
The approach is said to suit young people and children with special needs while offering a flexible approach to learning and a range of learning styles. It recommends a high ratio of adults to children, which The Effective Provision of Pre-School Education (EPPE ) Project (2004) claimed to be a clear indicator for success in the education of pre-school children. The benefits of this approach are said to include:
development of social skills and teamwork
development of physical skills
development of communication skills
development of knowledge and understanding of the environment
increased self confidence and self belief
increased motivation and concentration.
Member-only content
Scholastic Resource Bank: Early Years - join today!
Over 2,000 EYFS resources, activity ideas and games
Perfect for anyone working or playing with children from 0 to 5 years old
Unlimited access from just £1.25 per month
Join now
Already a member? Sign in below.
Reviews
You need to be signed in to place a review.