Over the last 12 years, Antony Lishak has led creative writing workshops in well over 1,500 schools. He has met hundreds of teachers who yearn to find ways of motivating children to want to write. Now he believes he has found one solution. Find out more…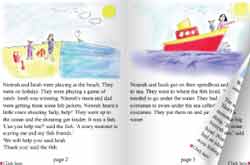 Ever heard the saying 'there's at least one good book inside everybody'? Well it could be true, but only if they released a chocolate version of Great Expectations!
It's one of the hazards of visiting 150 schools a year: the parent who sheepishly hangs around after a book-signing session, nervously clutching their life's work to their chest. And then the dreaded question, 'I've written this book, would you mind telling me what you think?' If only I could – but I'm far too polite…
Please don't misunderstand me – I passionately believe that we all need to nuture our inner authors. Striving to find your voice on paper is a positively empowering thing to do. There's no better way of making sense of the world about you and to unravel the mysteries of the worlds within.
'You've got to be joking!'
About three years ago, as I was packing away my books, I was approached by one such parent.
Log in to your account to read
Reviews
You need to be signed in to place a review.