The fifth part of this series looking at how our brains work focuses on making connections between areas of learning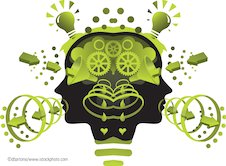 The capacity to connect, linking the new to what we already know, is a vital component of learning. To say 'aha!' and figure something out involves transforming what our senses perceive into something meaningful.
In his book How the Brain Learns (Corwin Press, £25.99 PB), David A Sousa describes how the brain takes in information and decides whether to retain it or drop it. The selection process is narrowed down to two factors: 'Information is most likely to get stored if it makes sense and has meaning.'
This statement provides the shortest, yet most powerful, checklist for planning and evaluating teaching – that is, did the teaching make sense and have meaning? Sousa suggests if both boxes are ticked we'll learn this material. We can get by with one, but if there is neither sense or meaning, forget it. Of the two, meaning is the more significant, having the greater impact.
So, how do we make learning meaningful? (Take a look at the other articles in this series).
Personal connection
I recently took a class where the children were supposed to devise a leaflet persuading people to carry a gas mask, as if we were in the blitz. Having not experienced the blitz, there was a gap between the children and the learning. They knew some facts that made sense: gas falls, no mask means that you die. However, they had no connection with the issue.
Log in to your account to read
Reviews
You need to be signed in to place a review.