St George is said to have slain one of the fiercest dragons of all time – but there's no evidence to show that dragons ever existed. So why have civilisations throughout history been both fascinated and terrified by these fiery reptilian monsters?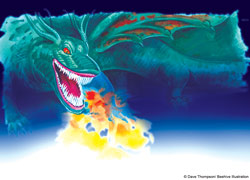 The Dragon is the universal monster, feared and revered by people across the world and throughout every period in history. Dragons appear in ancient tales from South America to Asia, from Babylon to Britain. They are recorded in the Bible and in Shakespeare; in Greek myths and Norse legends; in fairy stories and ancient epics. Just as potent and powerful is their symbolism – as an image of evil, an object of terror, an emblem of rebellion, a badge of fierce courage or a flag of freedom.
Despite such an enduring presence in all cultures, dragons have never existed. Yet, these gigantic and ferocious creatures have consistently found a home inside the human imagination. Are they a combination of all the most frightening aspects of the animals with whom we share our planet? Or a half-forgotten memory of some terrifying, but now extinct, creature? Or even a way of explaining away earth-shattering natural phenomena like volcanoes and earthquakes? Or simply a common physical manifestation of wickedness that we all have to overcome in order to survive?
An exploration of dragons reveals a remarkably rich array of imagery – huge flying lizards, massive sea-serpents, many-headed snakes spitting venom. But most of these creatures do share common characteristics, no matter where or when they appear. They are generally enormous reptiles with thick, scaly skin and massive jaws from which they breathe fire and poison. Many dragons have large bat-like wings – but not those in China and Japan, where they are also more friendly and inclined to fight evil, rather than represent it.
Dragons live in a variety of places, most of them associated with water or dampness – up in the sky among black thundery clouds, down in the depths of oceans, rivers, ponds or lakes, or in damp, dark, mountainous caverns. Time and again, dragon stories praise the creature's keen eyesight – the Greek word for dragon is 'drakon', which means 'to see' or 'to watch'. This is why dragons are frequently seen as guardians – of treasure, of temples or holy places, or of beautiful maidens.
ACTIVITIES

Ages 7-11
Learning objectives:
Literacy – fiction: to explore myths, legends, fairy tales, stories from other cultures; to compare range of story settings; to retell main points of a story in sequence; to distinguish between first- and third-person accounts; to write poetry using sound effects; to understand the use of descriptive language in story; to write collaboratively with others; to write own versions of myths and legends; to consider attitudes and beliefs in stories; to prepare and present a personal point of view; to interpret meaning in stories from a range of cultures; to work over time on a theme identified in reading.
Literacy – non-fiction: to locate and summarise information; to compare the way information is presented; to record information from texts read; to recount information in a variety of ways; to select information to capture interest and convey information; to use persuasion in writing or talk; to make notes for storytelling; to use dictionaries and thesauruses; to write in newspaper style.
1. Tell the story
Member-only content
Scholastic Resource Bank: Primary - join today!
Over 6,000 primary activities, lesson ideas and resources
Perfect for anyone working with children from 5 to 11 years old
Unlimited access from just £1.25 per month
Join now
Already a member? Sign in below.
Reviews
You need to be signed in to place a review.