Two-time winner of the Kate Greenaway Medal for distinguished illustration in a book for children, Emily Gravett, tells Literacy Time PLUS why she thinks she is one of the luckiest people alive!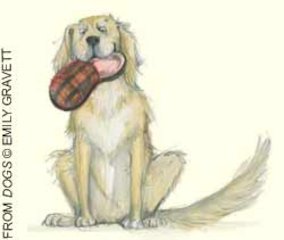 It's been nearly five years since I left university and started working full-time as an illustrator of picture books, and I can quite honestly say that I believe I'm one of the luckiest people alive!
I get up every morning, wave my daughter off to school, walk the dogs and then sit down and spend most of my day drawing, writing, cutting, sticking and fiddling about on my computer. All while wearing my slippers and generally making a huge amount of mess. I love it!
For me, there's nothing more absorbing than having an idea that inspires me and then playing with it until it turns into a fully-fledged new book.
Occasionally though, the ideas run dry, my pencils and paintbrushes refuse to cooperate, and I realize that I haven't been out of the house for weeks. Time to get out and about! So I'm grateful that every so often my publishers set me up to go and visit a group of children at a school, library or bookshop.
Can you match the mutts?
Based on her picture book Dogs, Emily Gravett has made a downloadable Pairs Game, complete with 12 adorable doggy pairs for your children to find and match. The game is available free below, or click here
Log in to your account to read
Reviews
You need to be signed in to place a review.