We visit Kids Allowed Nursery Cheadle Royal where children are cared for in an environment with five-star facilities by staff who offer outstanding provision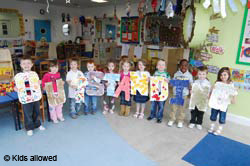 How many nurseries have the luxury of dedicated outdoor play areas for four different age groups? Kids Allowed Cheadle Royal has all that and much more. The two-storey purpose-built setting, which opened in 2005 on a business park near Manchester airport, has a sensory theatre, a large studio for dance and drama, a fully equipped music room and a library. The pre-schoolers have a rooftop garden. There is even an area where parents can relax and have refreshments when they visit, not to mention a staff rest area and shower room.
There are contract cleaners to do the cleaning, catering staff who do the cooking and a receptionist to help with admin.
Log in to your account to read
Reviews
You need to be signed in to place a review.