Parents think nursery rhymes 'old-fashioned'
5 Stars
8 October 2009
Add to My Folder
This item has 5 stars
of a maximum 5
Rated 5/5 from 1 rating (Write a review)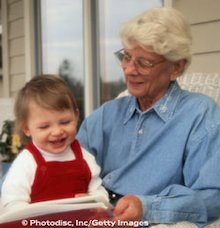 New research for National Bookstart Day has found that just 36 per cent of parents regularly use nursery rhymes with their children, with almost a quarter saying that they have never sung a nursery rhyme with their child.
Younger parents claim that nursery rhymes are 'too old-fashioned' to interest their children, with 20 per cent saying that the traditional songs and rhymes are not educational. Parents living in the Midlands and Wales most frequently used rhymes, with the parents surveyed in Northern Ireland least likely to use them.
The survey also found a lack of knowledge of traditional rhymes among younger people, with just 58 per cent of 16- to 24-year-olds knowing all the words to 'Little Miss Muffet'.
However, the importance of nursery rhymes was stressed by Professor Roger Beard, Head of Primary Education at the Institute of Education, who said: "Sharing rhymes with young children is as important today as it ever was. It helps them to enjoy playing with language and to learn about its patterns and rhythms. Some favourite rhymes date back 200 years or more. For instance, 'Twinkle Twinkle Little Star' has an enduring simplicity, while also allowing children and grown-ups to share in their wonderment about the night-time sky. The appeal of other rhymes, like 'Incey Wincey Spider', is probably linked to the simple actions that accompany them and which are easily shared with small children."
The survey was carried out by reading charity, Booktrust, in preparation for National Bookstart Day on Friday 9 October, which this year has the theme 'My Favourite Rhyme'. National Bookstart Day celebrates the Bookstart programme which gives free books to every child in the UK and encourages sharing books and rhymes with children as early as possible.
Over 2,500 people took part in the survey, which found that the nation's favourite nursery rhyme is 'Twinkle Twinkle Little Star'. Sixty-three per cent of parents who used rhymes with their children said that they did so because they made children laugh, while 18 per cent used them instead of a bedtime story.
To help parents develop a love of nursery rhymes, and give them the confidence to share them with their children, Bookstart will be producing and distributing one million books containing the nation's top eight rhymes. Thousands of families will be invited to take part in activities across the UK, including Bookstart Rhymetimes, appearances from the Bookstart Bear and song and storytelling sessions.
Rosemary Clarke, Director of Bookstart said: "A love of reading is a priceless gift that every mother, father and grandparent can pass on to a child. Sharing stories, songs and rhymes from the well-known traditional fairytales, to those that may only be known to your family or in your culture, helps babies and toddlers in so many ways. It helps children to build a wider vocabulary and enables them to achieve more in their reading and writing when they start school. Children are taught how to read at school, but it is even better when they already have a love of books. Bookstart aims to encourage every child on their reading journey."
Find out more about National Bookstart Day at www.bookstart.org.uk
Reviews