This original story has been written for Literacy Time PLUS by our Writer-in-residence, Antony Lishak. Jacob, a young Jewish boy, is reading the story of Noah's Ark while studying for his Bar Mitzvah when a strange figure appears – the original owner of the Chumash which Jacob is reading. Through Isaac's eyes we learn about another ark – the Ark of Odessa – used by Isaac's family to escape the Pogroms.
These teachers' notes refer to the PRINT ONLY guided reading leaflet in Literacy Time PLUS for Ages 9 to 11, November 2009.
At the end is a glossary and an author's explanation of the story meaning. Further information about the Jewish Bible is provided on the information sheet below.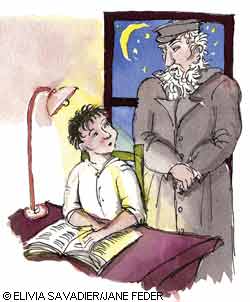 Before reading
Discuss the story title. What do the children think the text will be about? Discuss what an ark is and what the children think Odessa might be. Could it be a place? Where? Is it the name of a person? Why?
Reading and responding
Read through the text together or in pairs, with each child reading the speech of the main characters.
What is the main theme of the text? Is there more than one theme?
How has the author created impact in the text? How does it make you feel? Does it make you think of another text that is similar? Why?
Discuss the vocabulary used in the information text on page 4 of the leaflet and what the words mean, referring to the glossary.
Are the children aware of any other examples of Jewish people being persecuted? Refer to any work on World War II in history.
Read the additional information about the Tenakh on the information sheet below. What other words could you add to the glossary to link to this text?
Log in to your account to read