This thought-provoking story, set in Jerusalem in 165BCE, is linked to the Jewish festival of Hanukkah. To support the story there is a activity sheet information text about the festival.
These teachers' notes refer to the PRINT ONLY guided reading leaflet in Literacy Time PLUS for Ages 7 to 9, November 2009.
It would be helpful if children had previous experience of reading historical adventure stories and an understanding of how a writer uses figurative and expressive language to create images and atmosphere.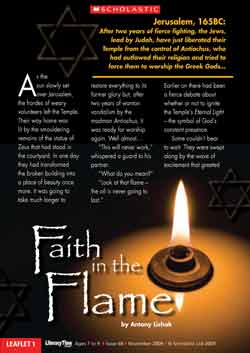 Before reading
Establish what the children already know about the festival of Hanukkah and the Jewish faith. Invite any Jewish children in the class to act as experts – if they feel comfortable doing so. Briefly explain that Hanukkah is a Jewish Festival of Light which takes place over eight days in November/December each year to remember the miracle that resulted in a day's worth of oil lasting for eight in the Temple in Jerusalem. You could refer to the information about the festival in On-screen resource 1.
Log in to your account to read
Reviews