In this third part of our Baby Bear Comes Home story series, by Literacy Time PLUS Writer-in-residence Antony Lishak, we return to the pond – scene of Mummy and Daddy Bear's dramatic rescue in Story 1 – where the frogs are struggling to protect their precious royal treasure from the nasty toad gang.
These teachers' notes refer to the PRINT ONLY guided reading leaflet in Literacy Time PLUS for Ages 5 to 7, November 2009.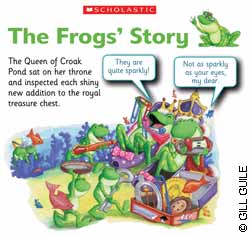 Before reading
If you have been following the Baby Bear Comes Home series, start the session by referring back to the first story (Poster 2, Issue 43, July 09). We first met the frogs as they leap-frogged Mummy and Daddy Bear across the pond. Look at the illustrations and see what clues the children can find that would suggest that the frogs come from a colony of hoarders.
Speculate on the conversation the two frogs had as they made their way back to the pond from the school. Use the cheeky chuckle on the face of the bespectacled frog at the foot of the school steps as a starting point. What might the frogs be thinking?
Log in to your account to read
Reviews