Find out more about Brian's work at www.poetryarchive.org.
As Hallowe'en approaches, Brian Moses suggests ways to create spooky poems.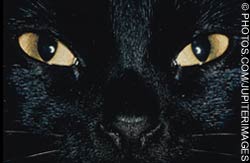 Taking children out of the classroom and into an environment where their imagination can be fuelled by what they see, feel and hear just has to be one of the most rewarding experiences for both children and teachers. This was certainly the case at Hellens, a manor house in Herefordshire, where we gathered for a spooky writing weekend.
The house is just what you need it to be – shutters, faded tapestries, huge fireplaces with roaring log fires, stern portraits, a spiral staircase, minstrels' gallery, four-poster beds, ancient cupboards, loose floorboards and not just one, but two rooms which are supposedly haunted!
Very quickly the old house worked its magic. Rays of November sunlight filtered through half-closed shutters, illuminating dark corners, heavy oak doors creaked on cue and floorboards lifted, revealing dusty compartments where at best treasure, at worst spiders might be discovered.
Right at the start we paraded the clichés of the horror movies and quickly dismissed them. Nothing was needed but the house itself and the spooky feelings it gave us. Anything that felt menacing was made more menacing. We gradually built-up the atmosphere, layer on layer.
With thanks to the children from Longlevens Junior School, Gloucester, their Head teacher, Dave Smith, Literacy Coordinator, Caroline Brunner, poet Wes Magee, and everyone at Hellens House.
There were lengthy discussions about the ghosts – a lady who lost in love and spent 30 years wasting away, and a family priest killed by the Roundheads in the room where Mary Tudor once slept (now known as 'Bloody Mary's room'). Would anyone be prepared to spend a night in these rooms?
A session in the grounds of Hellens provided us with many new ways of looking at things. One girl wrote about fear white berries and angry red leaves. That was just right. Berries can be poisonous, we should fear them, and leaves may well be angry that the trees have shed them. These are the kind of insights that just don't occur in the classroom.
The weekend concluded with a performance to parents where, despite a blazing fire, everyone shivered at least once in response to a succession of chilling observations.
Practical ideas from the weekend
What does a good spooky poem need?
Log in to your account to read