The July 2009 issue of Literacy Time PLUS Ages 5 to 7 featured the story poster Baby Bear Comes Home, which followed the night-time adventures of Mummy and Daddy Bear as they retrieved their lost child from a school.
At the end, Owl rescued the three bears from the swiping claws of Basher the Cat by whisking them away to safety. In Leaflet 2, which is the second episode of the story by our Writer-in-residence, Antony Lishak, we catch up with Owl next morning as he tries to recover from his ordeal. Here are some suggestions to help you use the resource in class.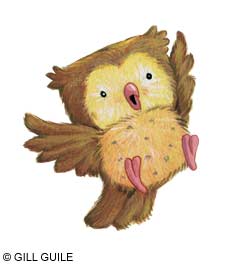 These Teachers' Notes refer to the PRINT ONLY guided reading leaflet in Literacy Time PLUS for Ages 5 to 7, September 2009
Group and guided reading
Known and new
Read the story through, then refer back to Baby Bear Comes Home and discuss how Owl's story is connected to it. Which aspects of this new story did we already know from the first episode? Now find aspects of the story that are new. More able children will be able to look at the two stories and make their own lists of 'Things we already know' and 'Things that are new'. Younger or less able children may need prompting.
Give the children the following statements and ask them to classify them as either Known or New.
Log in to your account to read