This multimedia resource illustrates the working lives of children in the coal mines in Victorian times. It features an extract from the 1842 Children's Employment Commission inspection report (official formal language), information on Big Pit in Blaenafon, an image gallery, and a hyperlink to a video in which children, in role as miners, act out interviews with the inspectors.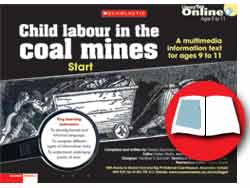 Preparation
Child labour is a sensitive, difficult issue so you may wish to preselect some suitable resources/websites.
Previous learning
In Year 4, children should have: listened to speakers and made notes; found information effectively in different types of information texts; written non-narrative texts, summarising and shaping material from different sources; used paragraphs, punctuation and varied sentence structures to clarify meaning; used word-processing packages to present work.
Log in to your account to read
Reviews