Katie Cleminson's debut picture book A Box of Tricks (Jonathan Cape, ISBN 9780224083447) is out now!
Inspire creativity, ambition and discussion through the adventures of this famous balalaika-playing mouse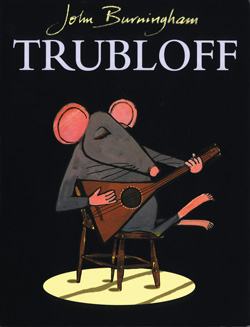 All through art school I had a picture from Trubloff pinned above my desk. The sun setting over two mice in overcoats, skiing, one with a balalaika strapped to his back. John Burningham has been an inspiration to me for many years and Trubloff (Red Fox, ISBN 9780099414285) is my favourite of all his works. This book was published 20 years before I was born, but to me it is utterly timeless, and is just as fresh and engaging each time I read it.
Burningham transports the reader to a land of sparse, snowy landscapes, skiing mice and travelling musical gypsies. The book bursts with atmosphere, adventure, pace and emotion. Children will identify with Trubloff's ambition to be the best at something, and will learn how his actions, in pursuing his dream, affect those around him.
Synopsis
Trubloff is a mouse who lives with his family at an inn, in Central Europe. Trubloff dreams of becoming the greatest balalaika player in the country and runs away to join the gypsies. Worrying about his disappearance, his mother becomes ill. His sister goes to find him and they travel back on skis, through a horrible blizzard. When they return, they learn the innkeeper wants to turn them out of the inn. However, he also needs a musician that night. When Trubloff demonstrates his balalaika skills, the innkeeper is so impressed he lets the family stay. Trubloff and his siblings form a band, which becomes famous.
Log in to your account to read