Shantha Rao, of the Annapurna Indian Dance Company, retells a traditional Indian story, which has relevance to the modern world and its environmental future. It explains how Krishna saved a river from a polluting snake. Shantha's dance company tells the story using puppets and dance.
These teachers' notes accompany the PRINT ONLY guided reading leaflet in Literacy Time PLUS Ages 7 to 9, May 2009.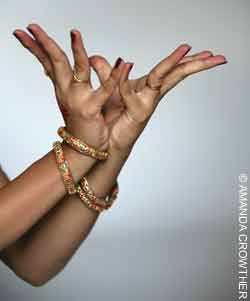 Before reading
Identify India and the British Isles on a globe and point out how their respective positions, particularly in relation to their proximity to the Equator, influence the difference in their climates.
Scan the subtitles that appear in bold font. At which point is conflict likely to enter the story? Can the children name the hero and the villain, before they read the story?
During reading
List references to the five senses in the story, noting supporting quotations from the text – eg, food references (taste), flowers (sight and smell), birdsong (aural) and swimming (touch). How does involving our senses reinforce the contrasts before and after the arrival of Kaliya? (It heightens our awareness/helps us to empathise when the people's senses are assaulted by pollution.)
Invite children to add words, with definitions, to their vocabulary books, such as toxic (poisonous) and vibrant (bright and lively).
List adjectives used in the final section 'Krishna saves the river': favourite, furious, tall, huge, ugly, great, sharp, slippery, slimy, brave, strong, weak, evil. Make a second list of dramatic, and often onomatopoeic, verbs in the same section: gasping, rushing, lunged, crushed, pouring, begged, stirred. Discuss how a writer's choice of vocabulary helps build up atmosphere, tension and excitement.
Log in to your account to read