Sylvia Clements investigates how you can make the move from Key Stage 1 to Key Stage 2 as smooth as possible for your children.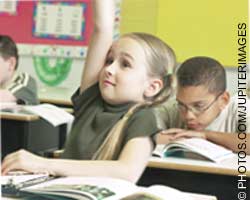 Sustaining Children Progress at Year 3 by Christine Doddington, Julia Flutter and Jean Ruddock (Journal: Research in Education, Vol 61, May 1999, ISSN 0034-5237) can be obtained from the Faculty of Education, Homerton College, Hills Road, Cambridge CB2 2PH.
As far back as the 1970s and 80s, national studies identified a dip in achievement by Year 3 children. Professor Christine Doddington of Cambridge University's School of Education, led an investigation* into the reasons for that dip, and found that the Key Stage 1 to Key Stage 2 transition itself was a major contributory factor.
Following these findings, many establishments, individuals and LEAs have carried out studies to investigate evidence of the dip, contributory factors and ways to smooth the KS1/KS2 transition and sustain child progress. This article summarises some of the contributory factors and suggests what you can do to smooth the transition in your setting.
Contributory factors
If your child tracking data is showing that, between KS1 and 2, children are making little or no progress – or even regressing – this could be a result of the following factors. Take the test in the box opposite and see which factors apply to your school!
Log in to your account to read