Take a look at our selection of books that are ideal for inspiring reluctant readers
Win, win, win!
Visit our 'Giveaways' section to win some of the books featured in these reviews!
Oli and Skipjack's Tales of Trouble!: Gnomes are Forever … but diamonds come and go by Ceci Jenkinson (Faber & Faber, £4.99 PB)
'Brilliant,' Skipjack grinned… 'Gnomes definitely don't bark so they'll make pefect kidnapees.'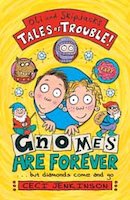 After grumpy bus driver, Mr Grimble, forces Oli and Skipjack to dig a potato bed in his garden, the boys resolve to 'liberate' some of Grimble's garden gnomes. But, little do they know that the gnomes are already playing a significant part in the local cat burglar's plans to relieve the town of all its diamonds. Chaos inevitably ensues, but the various strands of the story are cleverly and humorously intertwined, and neatly resolved.
With a great mix of characters, an original theme, and even a farting key ring, this is a roller-coaster read, ideal for more confident reluctant readers.
Log in to your account to read
Reviews