Horrible Geography Handbook wins Blue Peter Book Award
4 March 2009
Add to My Folder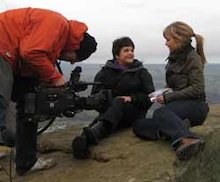 Anita Ganeri receiving her award
Scholastic's Horrible Geography Handbooks – Planet in Peril by Anita Ganeri, illustrated by Mike Phillips, has won the Best Book with Facts category in the Blue Peter Book Awards.
The awards, which celebrate the best children's authors, are chosen by children for children and also include the categories: Book I Couldn't Put Down, Most Fun Story With Pictures and the overall Blue Peter Book of the Year.
A panel of eight child judges, aged between six and 12, selected the winning titles from a shortlist compiled by a panel of judges which included author Anthony McGowan.
Other winners
The Blue Peter 'Book of the Year' award went to Matt Haig for Shadow Forest, which also scooped the accolade of 'Book I Couldn't Put Down', while Andy Stanton's Mr Gum and the Dancing Bear won the 'Most Fun Story with Pictures' category.
On winning the 'Best Book With Facts' award, author Anita Ganeri said: "I have been a fan of Blue Peter since I was six, and even named my dog after the Blue Peter dog, so winning a Blue Peter Award is incredibly special. I am pleased as punch with my badge and trophy. It is also wonderful that Blue Peter have a book award category for Books with Facts. There are very few such awards around, and some of the best children's non fiction in the world is written by British authors.
"I wanted to write about the problems facing Planet Earth but with a Horrible Geography twist. So, whilst there are lots of things readers can do at home, such as recycling and saving energy, there are also weirder and wackier examples of people trying to save the world, by, for example, running cars on dead flies or chocolate, or making paper from elephant poo.
"It is really important that everyone plays their part in trying to save the planet and I hope that this book will encourage young people, who are generally very environmentally aware, to do what they can. As I was putting my son to bed last night, I noticed that he was wearing his Christmas pyjamas with polar bears on them. If we don't do something to stop global warming, there may not be any polar bears left in a few Christmases' time."
Winning author Matt Haig said: "I am absolutely over-the-moon that Shadow Forest won, not only as a lifelong Blue Peter fan but also because this is one of the only national awards where children decide the winner." He added: "I was up against some very stiff competition so I couldn't believe I'd won my category let alone the overall prize, although I'm very pleased I did!"
Tim Levell, Editor of Blue Peter, said: "The Blue Peter Book Awards are special because they are chosen by children for children. We know how much our young audience loves reading, but on World Book Day, we want to encourage children to try some books they might not know about – and hopefully get some new favourites to add to their bookshelf!"

On screen
A special episode of Blue Peter, broadcast on BBC1 on Wednesday 4 March showed the deliberations of the children's judging panel, as well as mini-dramatisations of each book. Excerpts from all the shortlisted books are available to download for free from the Blue Peter website.
Free resources
Junior Education PLUS featured literacy teaching activities using Matt Haig's Shadow Forest in their August 2008 issue. To celebrate the Blue Peter Book Award, this subscriber-only resource will be available FREE for two weeks. Download it here.
PLUS , read a Junior Education PLUS exclusive interview with Matt Haig here – again, this subscriber-only resource is available to download FREE for two weeks.