International Primary Curriculum: The bear necessities
16 March 2009
Add to My Folder
and Louise Tett — Reception teacher
From teddy bears to grizzly bears, explore the world of animals using ideas from the International Primary Curriculum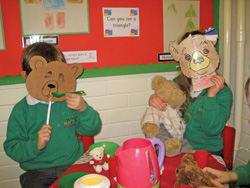 April is National Pet Month, designed to raise awareness of the importance of animal welfare. Many children do not have the opportunity to own a pet, so a teddy bear can be a good alternative. Reception teacher Louise Tett took advantage of this during her work on the Bears unit of the Early Years Programme for four and five-year-olds from the International Primary Curriculum (IPC).
Louise teaches at Fair Oak Infant School in Hampshire, where they have been working with the IPC for the past two years, aiming to bring a thematic, cross-curricular, skills-based, rigorous and internationally-minded learning approach to all their infants. Louise worked on the Bears theme for six weeks, linking to all the Early Years strands, plus numeracy and literacy wherever appropriate.
Bring your bear to school day
We started the unit with what IPC calls the Entry Point. This is a special event to get the children excited and engaged about the theme. We invited everyone to bring in a soft toy bear from home. During the day the bears went everywhere with us: to assembly, out to play, joining in with our learning, and to lunch.
At the beginning of the day we talked about taking responsibility for our bears throughout their day at school. This included why each of us should take care of our bear, our possessions and our pets each day, every day. The children liked taking on the parental role, being in charge and showing their bear what to do throughout the day. They demonstrated a real understanding of ownership and responsibility. The children also made 'I belong to…' labels to put around their bears' necks, and drew pictures of their bears.
Log in to your account to read