Many children learn to explore and understand the world around them through schemas and schema play, as Sally Featherstone explains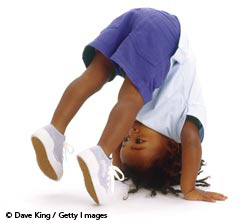 What are schemas?
Schemas are repeated behaviours that babies and young children use to explore and understand the world. Examples of schema behaviour might be:
a baby continuously dropping objects over the side of a high chair and watching them fall to the floor
a toddler repeatedly bringing objects and placing them in an adult's lap, or loading up a barrow or bucket with objects, then tipping them out again
a child who always climbs into an empty box, builds walls with big bricks and makes walls and fields for cars or small-world animals
a child who is interested in everything that turns – taps, doorknobs, keys, locks and wind-up toys.
These are all behaviours that can be described as schemas, and during your observations of the children in your care you may have seen some or all of these types.
Some children will show you clear schemas, which they become involved in over days and sometimes months. Other children seem to need this repeated play less often, but some will never be observed in this sort of play. Of course, this does not mean they never do it, just that it is never observed!
Log in to your account to read