Author of the delightful Tumtum and Nutmeg series, Emily Bearn, reviews a selection of illustrated children's books…

Emily Bearn was born in London, and has been a journalist since the age of 20 when she joined the staff of Harpers & Queen magazine. She then worked on The Times and the Sunday Telegraph, before writing her first children's book, Tumtum and Nutmeg (Egmont, £5.99 PB), about two married mice living in a stately home within a cottage broom cupboard. Emily lives in London with her daughter, Freya.

The third Tumtum and Nutmeg book, The Pirate's Treasure, will be published in April '09.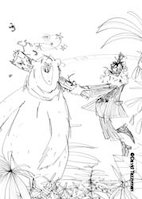 Reviewer's choice:Mr Gum and the Dancing Bear by Andy Stanton; illustrated by David Tazzyman (Egmont, £5.99 PB)
This is the fifth book in the Mr Gum series, and it certainly won't disappoint Andy Stanton's well-deserved legion of fans. In a wonderfully-ludicrous plot, Mr Gum devises a dastardly plan to make money out of Padlock – a bear who is as tall as 40 hamsters, weighs as much as 19,000 grapes and is homesick for the Kingdom of the Beasts. Can Padlock's friend, Polly, outwit the villainous Mr Gum, and return Padlock home before he dies of a broken heart? David Tazzyman's beautifully-eccentric pen and ink drawings complement a gloriously-funny plot.
Log in to your account to read