This leaflet, adapted from the graphic novel City Eye in the Shadows series (Rising Stars), is made up of a series of illustrations, with the original text removed. The powerful black and white images have great boy appeal and can be interpreted in different ways to provoke questions and discussion.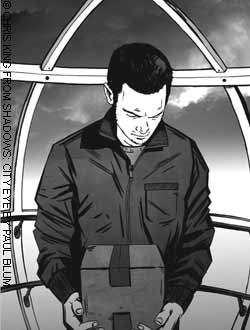 These teachers' notes accompany the PRINT ONLY guided reading leaflet in Literacy Time PLUS Ages 9 to 11, March 2009.
Before reading
Lead a discussion about 'What is reading?' List different text types that children encounter in everyday life. Remember to include screen texts, such as TV dramas and commercials, as well as computer games, text messaging and websites. Divide the list into narrative and non-narrative – those that tell a story and those that provide information – eg, a sports report or a bus timetable.
Talk about the key features of graphic novels: images, captions, speech and thought bubbles, short descriptions, scene setting, etc. Discuss their growing popularity.
Log in to your account to read
Reviews