This leaflet offers four short examples of persuasive writing from different perspectives, linked by the theme of saving or appreciating the planet. They allow discussion of the purpose and effectiveness of persuasive text, and consideration of the impact of tone, layout and images.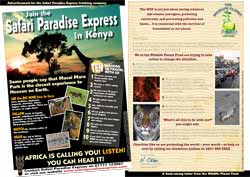 These teachers' notes refer to the PRINT ONLY guided reading leaflet in Literacy Time PLUS Ages 7 to 9, March 2009.
Before reading
Establish that everyone understands what 'persuade' means – briefly collect some ideas of when persuasion takes place: this might span everything from persuading a friend to share their crisps, to persuading the nation to vote for you to be Prime Minister. Encourage a wide range of examples.
Discuss persuasive techniques in relation to the examples collected. These might include reasoning, using emotional language to make someone feel pity, guilt, responsibility or fear; exaggeration; offering benefits; appealing language; powerful adjectives. Make a list to display.
Introduce the idea of concern for the environment – what do children already know about persuasion connected with this concept?
Log in to your account to read