This lovely fairy tale is told by Jess Smith. Growing up as a Traveller and living on a bus, she now lives in Perthshire, Scotland and is a successful storyteller. This is a simply told tale, easily accessible by lower ability groups.
These teachers' notes accompany the PRINT ONLY guided reading leaflet in Literacy Time PLUS Ages 7 to 9, March 2009.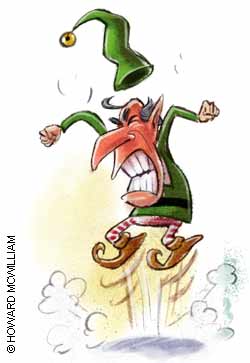 Before reading
Discuss the title with the children. What do they expect the story to be about? What narrative genre does the story fit in to? What other stories do they know within this genre?
During reading
Read though the story with the children. Stop at any new vocabulary and discuss meaning. Draw attention to interesting verbs used in this text that are typical to the genre, such as popped, cupped, demanded, refused, thanked, snapped, nodded. Make a list of the verbs as you work through the text.
Point out the use of speech marks to punctuate dialogue in the text and encourage the children to use expression and inflection as they read the characters' speech aloud. Locate question marks in the tale and discuss their use and the effect they have on the reader.
Log in to your account to read