This non-fiction text contains interesting facts about real and imaginary flying creatures. It also includes labelled pictures. Page 1 has a simple contents table and on page 4 there is an alphabetical index.
These teachers' notes accompany the PRINT ONLY guided reading leaflet in Literacy Time PLUS Ages 5 to 7, March 2009.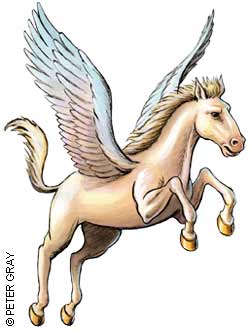 Before reading
Ask the children if they know of any creatures that fly. Encourage them to think about those they have seen in their garden, at the park or in the zoo. Talk about the creatures' size, shape, colour, and any other facts that they know about them. Which of the creatures did they particularly like or dislike? Why?
If you have read any stories with imaginary flying creatures in them, you could talk about these and make the distinction between real and imagined creatures.
Give each child in the group one of the leaflets to look at. Let them scan the pages to find any pictures of creatures they have seen and to name them, either from memory or by reading the labels. Ask the children which of the creatures they would most like to read about and why.
Log in to your account to read
Reviews