For a small fee, hold a 'Mr. Funny's Red Nose Day' event for families at your setting on Red Nose Day to raise funds for Comic Relief. Serve Red Nose biscuits and red drinks, and have lots of fun sharing the book and laughing at the improbable events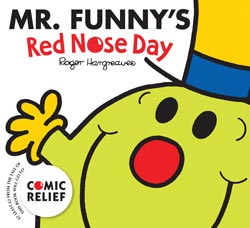 Mr. Funny's Red Nose Day has been specially written to make people smile and to raise funds for Red Nose Day. It features Mr. Funny and his efforts to cheer up his friend Mr. Grumpy
Personal, Social and Emotional Development
Explain the meaning of 'comic' and 'relief' to everyone. Talk about how purchasing a copy of Mr. Funny's Red Nose Day will help to buy food for a hungry African child, or provide support for vulnerable people. After reading the story, discuss the importance of helping people and cheering them up, just as Mr. Funny cheered up his friend Mr. Grumpy.
Invite the children to tell your visitors their favourite part of the story. Talk about what cheers us up when we feel grumpy or sad.
Explain that Roger Hargeaves wrote the first Mr. Men book, Mr. Tickle, after his son Adam asked him what a tickle looked like. He drew a round, orange shape with long, wiggly arms. Consider how feelings might be represented as storybook characters, for example, Mr. Funny's big round face, wide smile and silly hat could represent happiness. Invite everyone to draw faces representing feelings such as sadness, anger and excitement.
Log in to your account to read