Everyone has some ideas about pirates – what they look like, their personalities and behaviour. Pirates are often seen as rather romantic figures, if a little scary. This leaflet gives information about the lives of some real pirates, which may well explode a few myths and change some opinions. It is exciting factual information, with a high interest factor which will help carry less able readers through the sometimes challenging and unfamiliar vocabulary.
These teachers' notes accompany the PRINT ONLY guided reading leaflet in Literacy Time PLUS for Ages 7 to 9, January 2009.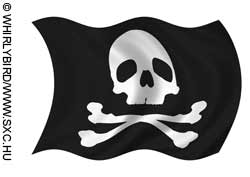 Start a

KWL

grid – what we Know, Want to know, and have Learned. Record ideas about pirate dress, behaviour and deeds, and anything else the children think is a fact. What things might they want to find out? Leave the final section blank to return to later.
Discuss pirates the children know – eg, Jack Sparrow, Captain Hook, Captain Pugwash and Long John Silver.
Take a vote on whether pirates are bad or good people.
Introduce some of the key technical vocabulary – eg, piracy, privateer, gibbet, cutlass, tavern, plunder, calico and fleet.
Log in to your account to read
Reviews