World Book Day the biggest annual celebration of books and reading in the UK and Ireland. To help you join in the fun, the Literacy Time PLUS team has chosen five great reads for you to share with your children – books that lend themselves particularly well to discussion and classroom activities.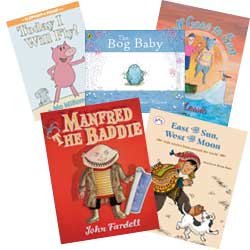 Wolf Goes to Sea
Rob Lewis
(Pont Books, 978 18432 39048)
Wolf is the last creature of his kind in Wales. He likes his house by the sea, and taking tea with his friend, Nain, but he longs to meet other wolves, just like him. So Nain helps Wolf stow away on a ship and he sets off on a journey through blizzards and hailstorms, icy seas and deep forests.
Although Wolf finds what he is looking for, he soon realises that there is no place like home. But one tempestuous sea voyage is enough for any wolf, so it is through the windows of a train that he marvels at lands of varying colours as he makes his journey homeward.
This touching tale is told beautifully in rhyming couplets, making it perfect for more able independent readers or for sharing as a class. Readers can get lost in the carefully drawn, multicoloured landscapes – from the tulip fields of Holland to the onion-shaped domes of Red Square.
Activity ideas
Track the route Wolf takes on a map of Europe. Collect real pictures of the countries he visits.
Write letters or postcards to the wolves in the north, telling them about where you live or a place you have been on holiday.
Create a class poem, using rhyming couplets, with the title 'There's no place like home'.
Log in to your account to read