This fantasy underwater story stars a little octopus called Orlando who is always stuck in the Seabed Café kitchen, washing up – but we discover that Orlando has hidden talents. This enjoyable story will suit fluent Level 2 readers in guided reading sessions or is fun to share with less able readers.
These teachers' notes accompany the PRINT ONLY guided reading leaflet in Literacy Time PLUS for Ages 5 to 7, January 2009.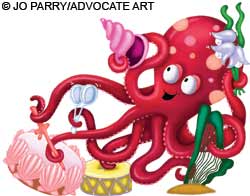 Before reading
Talk to the children about what a fantasy story is. What other fantasy stories have they read before?
Explain that, just as in other stories, the story they are about to read or hear has a clear beginning, middle and end and the main character is called Orlando.
What would they expect to see under water in the sea? Ask the children to remember these ideas while reading/listening to the story. How do their ideas compare to those in the story?
Explain that there are examples of alliteration in the text. Remind the children what alliteration is and scan the first sentence to find an example of it (elegant, electric eels).
Tell the children that the author also uses a lot of adjectives and adverbs to make some interesting sentences. Read out the first sentence of the paragraph on p2 that begins 'Orlando crawled away into the dark, murky ocean.' Discuss why this is more interesting than a sentence like 'Orlando went off into the ocean'.
Log in to your account to read