A revolutionary new range of play equipment has been opened at a London school by two ex children.
Children at Fitzjohns Primary School in Camden met Hattie and Tim Coppard, the designers of Snug, who attended the school in the sixties.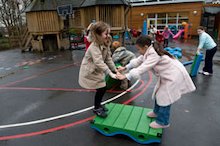 Governors, parents and other local schools attended the launch of the Snug kit which is the result of 15 years research and observation into what makes a good playground.
Hattie says: "I was so excited about going back to my old school, it's where it all started and I have such great memories of the playground. Now I hope Snug can help create fantastic memories for current and future children of Fitzjohns.
"Snug is a completely new approach to school playground design, creating a flexible environment for play and learning which changes the psychology of the playground. Children work together to build their own wonderful playscapes and this encourages their cooperation and creativity."
Head teacher Rob Earrey comments: "From the moment Snug arrived the children were intrigued and literally couldn't wait to get on it. As soon as the last screw was turned the bright green mound became home to all sorts of imaginative play.
"The moveable parts are used to great effect and the amount of imaginative play that now happens during the day is staggering – a very tangible result of this is the fall in the number of lunchtime complaints and incidents.
"Snug is creative, imaginative, intriguing, enticing, but most importantly fun. I love it and so do the children."
Hattie's playground design company, Snug & Outdoor also launched a new campaign to bring creativity to school playgrounds and are offering five schools a free playground consultation. Contact Hattie at Snug & Outdoor by visiting www.snugandoutdoor.co.uk.
Reviews
You need to be signed in to place a review.