Guest Editor, Mel Campbell, invites her Year 6 class to review a selection of their favourite books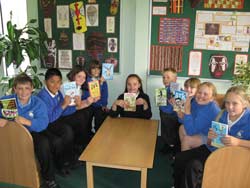 Anna Hibiscus by Atinuke (Walker, £3.99 PB)
Reviewed by Shannon

This story is about when Anna Hibiscus goes on holiday with her mum, dad and her two twin brothers, Double and Trouble. Aside from Anna and her family, there are lots of other really interesting characters in this story. The best part of the story is when Anna goes canoeing with her family and the canoe goes through a town and the markets. If I was her, I'd do that every day. I wouldn't change this story! I would recommend Anna Hibiscus for girls aged eight and nine years old because it has really good adventures.
Abbot Dagger's Academy and the Quest for the Holy Grail by Sam Llewellyn (Puffin, £5.99 PB)
Reviewed by James

I would recommend this book because it is funny and silly. I think children aged nine to 13 would enjoy it. It is fantastic. Abbot Dagger's Academy is a school far away in a place called the Badlands. It is a school for children so bad that no other school wants them or so bright that no other school can manage them. The characters are: Rosseti who is brilliant at drawing, English and talking with animals and uses his talents to get what he wants; Owen who loves maths, card games, chess and anything mechanical, and Onyx who can speak 28 different languages, is brilliant at history and loves to research. This is a great book where the children travel back in time in a pigeon basket.
Log in to your account to read