Find out more about St Andrew, and plan some Scottish-themed activities for St Andrew's Day taking place on 30 November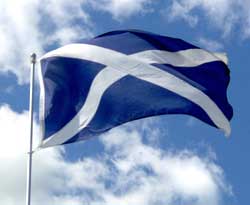 St Andrew's Day is on the 30th November and is celebrated by Scottish people around the world. The flag of St Andrew, the Saltire, is flown. It is a diagonal white cross on a blue background.
So who was St Andrew?
In the Christian faith, St Andrew was one of the 12 disciples of Jesus. He was born in Galilee and, with his brother, Simon Peter, became a fisherman before leaving his nets to follow Jesus. When Jesus was crucified, he continued to spread His word, travelling to many different countries and as far as Russia.
Log in to your account to read