For a long time, people have looked into Space and wondered if any other creatures exist 'out there'. This discussion text looks at what people have experienced – highlighting the evidence – and invites the children to say whether they think extraterrestrials exist or not. It is perfect for stimulating debate and exploring how to present both balanced and persuasive arguments.
These teachers' notes accompany the PRINT ONLY guided reading leaflet in Literacy Time PLUS Ages 9 to 11 November 2008.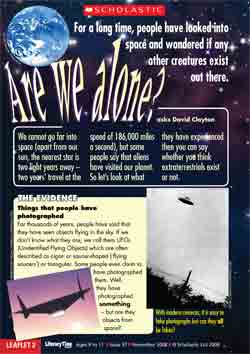 Before reading
Look at the title and the pictures. What kind of writing might this be? Give reasons.
Make a

KWL

grid of the group's ideas, knowledge and opinions about UFOs.
Start a 'Working Wall' on which you will add evidence, ideas and text features.
Previous learning
Children should have experience of: offering reasons and evidence for views; considering/responding to alternative opinions/differing viewpoints; using ground rules for talk and interactions; taking different roles in groups and using appropriate language; identifying speakers' main points, comparing arguments and how they are presented; summarizing evidence from a text to support a hypothesis.
Log in to your account to read